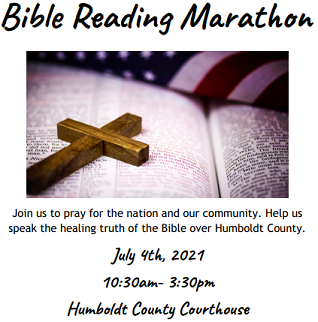 By: Donovan W. Mann – [email protected]
Dakota City, IA – A local group is looking for the community to join them as they read the Bible from cover to cover on the 4th of July.
As previously reported, the each of Iowa's 99 Counties participate in a Bible Reading marathon each year on the doorsteps of their court house. Member of the local planning committee Amanda Pedersen says that each county does their own version and Humboldt County is providing community members a chance to participate.
The event will be held at the Humboldt County Court House from 10:30 am-3:30 pm. Participants will be given a slip of paper with Bible verse on it that they are asked to read aloud.
The reading will not be done to an audience, rather just to oneself or family. Each participant will find their own spot to read on the lawn or steps of the court house in Dakota City. Pedersen says "it's very low pressure, you know, nobody's going to overhear you."
In order to get the entirety of the Bible read from Genesis to Revelation, Pedersen says they will need a high number of participants each reading a small portion. Each reader's slip will be about 30 minutes' worth of material.
The amount of participants needed will be about 140 people. "So it's going to require a lot of people," says Pedersen but "hopefully it is a short time commitment."
Pedersen says with some of the dysfunction currently going on in the word, an event like a Bible Reading Marathon can bring a sense of unity and togetherness. "Well I think it's hard to debate the fact that right now that things are really charged." She says that sometimes people can feel "a little bit pent against each other" in society right.
"We know the Word of God has immense healing power, so we just think there is a lot of symbolism in this and then by speaking the word out loud on the court house lawn that it's going to bring, hopefully, blessings and healing to the community."
The 2021 Humboldt County Bible Reading Marathon Committee is requesting that those interested in participating contact them ahead of time. Their email is [email protected] Pedersen says they will be accepting walk ups the day of the event.
The Bible Reading Marathon tradition began in 2016 when the Iowa Prayer Caucus set out to pray for the state of Iowa before the legislative session began. Governor Kim Reynolds has supported this effort by signing a proclamation encouraging the reading of the Bible at every county courthouse every year.
Those with questions can also contact the committee at [email protected]