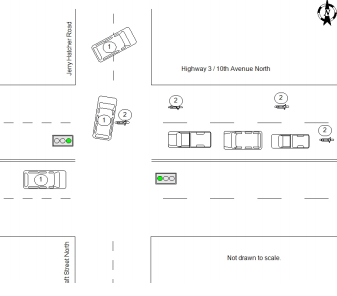 By: Donovan W. Mann – donovanm@977thebolt.com
Humboldt, IA – Possible minor injuries are suspected after a motorcycle collides with a mini-van on Highway 3 in Humboldt.
Officer Erin Bennett of the Humboldt Police Department files the report on the incident. Her report says that on Tuesday, June 1, April Smith, 32, of Gilmore City was traveling east on Hwy 3, looking to turn. The vehicle leading the westbound side was also looking to turn left.
When the light turned green, Smith began to turn left as Michael Axne, 33, of Fort Dodge merged into the outside lane of the westbound side of the road from behind a line of cars. Axne's motorcycle ended up striking the passenger's side of Smith's Chrysler Pacifica.
Both vehicles sustained severe damages as a result of the incident and where town away from the scene. Officer Bennett reports that Axne potentially suffered minor damages, was treated on scene by EMS and then transported by a friend to HCMH.