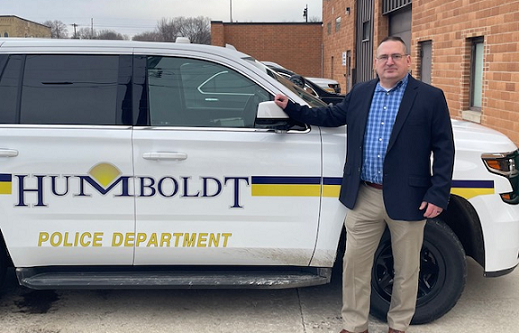 By: Donovan W. Mann – donovanm@977thebolt.com
Humboldt, IA – Humboldt's police chief is encouraging his officers to respond to situation instead of reacting.
Police Chief Joel Sanders held a training session on how to handle situations involving individuals with mental health concerns for the officers in the Humboldt Police Department. During the training he showed videos and shared scenarios of officers from other areas mishandling situations because they were "reacting" instead of "responding."
The first piece of the training was working to eliminate stigmas that all people have so officers better see the person. "Johnny has schizophrenia, we say 'Johnny is schizophrenic,' Johnny has cancer we don't say 'Johnny is cancer,'" the police chief says. This is to compare how society views mental disorders compared to other health concerns.
To eliminate this thought process the training session took a couple hours on just de-stigmatization. "Only so we can start to see the individual as an individual with a disability, not see a disability."
Police Chief Sanders says officers need to be able to recognize and understand what those with mental illnesses might be going through in order to respond appropriately. "And so in law enforcement we can't just point a gun at someone and say 'drop the knife' because that person may think that you're there to kill them, not recognize you as the police."
He says often times officers will simply take action because it is practiced. However, in reality that can escalate the situation instead of deescalate the situation. The police chief says when a person is in psychosis officers could appear as someone or something to intending to harm instead of someone to help.
The police chief says that law enforcement, in general, sees a lot of cases where officers are just looking to take action instead of thinking through a situation. "Typically we react, we don't respond." He compares reacting to going to the doctor's office when they use the rubber tool to check reflexes, it just happens with no thought.
"But if I respond, that means I got to have it in my mind what's going on and think about what my response is."
Police Chief Sanders says that there may not always be the option to get "time, distance and cover" to deescalate a situation. However, often there is the opportunity, officers just don't take it.
The Humboldt Police Chief says that most, if not all, of his officers are good at responding to situations instead of just taking action. He was encouraged by their engagement during the training session.