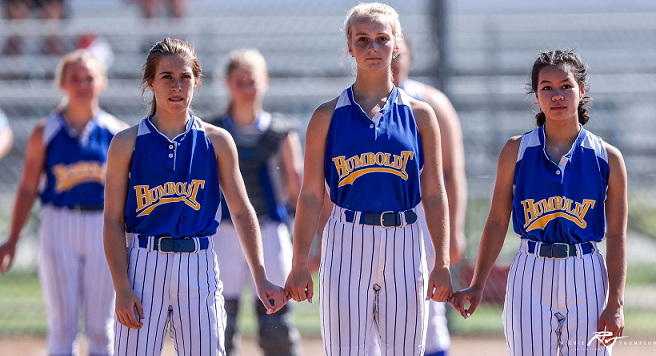 By: Donovan W. Mann – donovanm@977thebolt.com
Humboldt, IA – On Thursday, June 10, Humboldt softball fell to Belmond-Klemme 20-6 in three innings.
In the top of the first inning Belmond-Klemme was able to get out quick with five runs as all nine of the batters saw an at bat. Humboldt was able to respond in the bottom of the first with their first three hitters getting on base and scoring.
Belmond-Klemme added five more runs in the top of the second, including a grand slam from Ashlynn Willms. Humboldt was only able to get one back in the bottom of the inning. Humboldt trailed 10-4 going into the third inning.
The scoring got doubled for Belmond-Klemme in the third. Another grand slam, this time from Madi Barrus, helped them add 10 in the frame. Humboldt got two back in the bottom but were unable to prevent the three inning run rule (12 plus run advantage). Final score 20-6.
Humboldt we led by Jori Hajek and Reagan Lee who both went 1-1 with a place. Lee had and RBI on a sacrifice fly and Hajek was hit by a pitch as well.
Barrus was 3-4 at the plate with four RBIs. Jennah Miller went 2-2 in her at bats with two RBIs and a walk.
A final stat report from Humboldt softball versus Belmond-Klemme can be found on Varsity Bound.
Humboldt's record is now 8-4 this season.
The next game for the Wildcats will be Friday, June 11, on the road against North Central Conference opponent Algona (3-6, 1-4 NCC). First pitch is scheduled for 7:30 pm, following a JV game.
Featured photo courtesy of Rick Thompson.