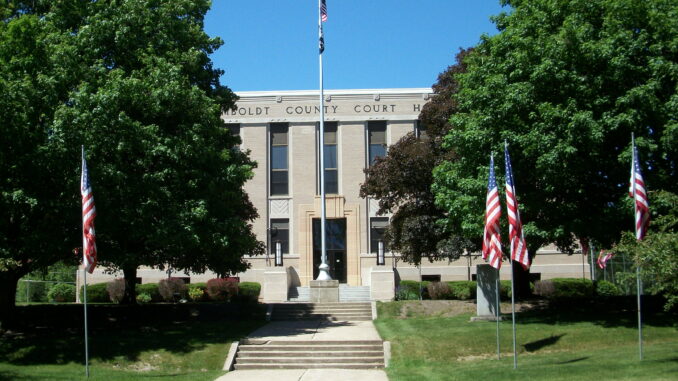 By: Donovan W. Mann – donovanm@977thebolt.com
Dakota City, IA – The Humboldt County Supervisors are expressing their gratitude to those who came out to help display the flags at the court house.
From the end of May into the first week of June, a multitude of American Flags were displayed around the Humboldt County Court House for Memorial Day. This tradition is to honor the veterans and fallen soldiers of the United State Armed Forces.
In order to display these flags it takes a team of volunteers. Supervisor David Lee leads the efforts and Bruce Reimers was present to help as well. The bulk of the volunteers were a group of individuals from Humboldt High School.
Reimers says he counted at least 32 students from the high school who spent their time helping put up and take down the flags. He wanted to make sure they knew their efforts were very much appreciated. Lee echoed the appreciation.
The Humboldt County Court House will receive the same lining of flags for the 4th of July holiday.