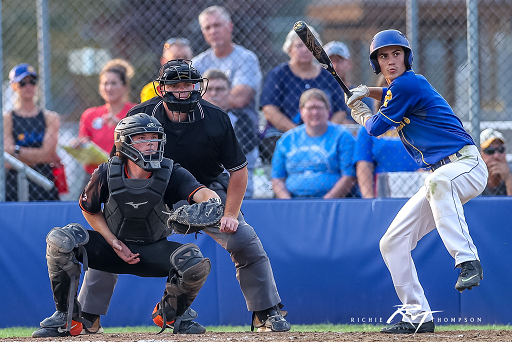 By: Donovan W. Mann – donovanm@977thebolt.com
Humboldt, IA – on Friday, July 16, Humboldt baseball beat Charles City 13-9 at home in the first round of the Iowa Class 3A Substate 2 tournament.
Charles City jumped out of the gates fast in the top of the first inning. Lead of hitter Colton Crooks hit a home run to spark a three run frame for the visitors. In the bottom of the first inning Humboldt managed to score four runs to take the lead thanks to two base hits and four Charles City errors.
In the top of the second Charles City tied the game at 4-4 and then in the top of the third they took a 5-4 lead. Humboldt responded with two runs in the bottom of the third to regain the lead at 6-5.
The Wildcats continued to build the lead with two more runs in the fourth inning, four runs in the fifth inning and one more in the sixth. After six inning Humboldt led 13-5.
Charles City was able to tighten up the final score thanks to four straight base hits with one out in the top of the seventh. This included back-to-back home runs Jaxon Daniels (two runs) and Tino Tamayo (solo). They scored four runs to window dress the final score at 13-9.
Humboldt's winning pitcher was Caden Matson who started the game. He pitched six innings, gave up nine hits, four earned runs, a walk and hit batter. He struck out five.
Charles City's starter was Tino Tamayo who picked up the loss. He pitched two and two-thirds innings, gave up four hits, six runs (zero earned), three walks and two hit batters. He struck out two.
Matson was 2-3 in his at bats with two RBIs, a walk and was hit by a pitch. Trevor Jacobson was 2-3 and drew a walk.
A final stat report from Humboldt baseball versus Charles City in the opening round of the substate tournament can be found on Varsity Bound.
Humboldt's victory will be their 23rd of the season. Trevor Jacobson was named the Player of the Game by KHBT as part of the broadcast coverage.
Humboldt will play Waverly-Shell Rock in the Class 3A Substate 2 semi-finals on the road. First pitch is scheduled for 7 pm.
Featured photo courtesy of Rick Thompson