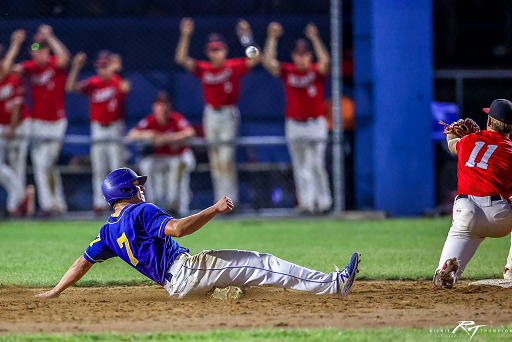 By: Donovan W. Mann – donovanm@977thebolt.com
Hampton, IA – On Monday, July 12, Humboldt baseball beat Hampton-Dumont-Cal 3-1 on the road.
The game was a pitchers dual. Both teams were able to get base runners in spot situations but none crossed the plate. The game was scoreless through four and a half innings.
In the bottom of the fifth Hampton-Dumont broke the tie. Riley Heeran drew a walk to start the inning and with two outs got driven home on an RBI single by Mario De La Cruz.
Humboldt's response was immediate. Caden Matson led top of the sixth inning off with a solo home run on the first pitch. After a scoreless bottom of the sixth the score was tied at 1-1 going into the final inning.
In the top of the seventh inning, Ty Gargano drew a walk with one out. Then with two outs, Caden Matson hit his second home run to give Humboldt a 3-1 lead. Hampton was unable to respond in after they got their lead-off man, Marco Gurrero on base.
Humboldt's starting pitcher was Matson who ended up with a no decision. He pitched three scoreless innings, gave up two hits and a walk with on strikeout.
Cade Witzke was Humboldt's winning pitcher. He pitched four innings, gave up four hits, one earned run, two walks and a hit batter. He struck out three.
Hampton-Dumont's starting pitcher was Brayden Johnson who got a no decision. He pitched three scoreless innings, gave up one hit and walk while striking out four.
The losing pitcher was Marco Guerroro. He pitched four innings, gave up three earned runs, four hits and four walks. He struck out four.
Matson was 2-3 in his at bats with three RBIs on his two home runs. Hayden Holm was 1-2 with a walk.
A final stat report from Humboldt baseball versus Hampton-Dumont-Cal can be found on Varsity Bound.
Humboldt's record is now 22-8 this season and they will finish second in the North Central Conference at 10-4. Caden Matson was named the Player of the Game by KHBT as part of the broadcast coverage.
Humboldt's regular season finale will be on Tuesday, July 13, at home against Storm Lake (25-4). First pitch is scheduled for 7 pm.