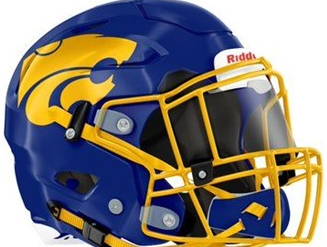 Humboldt IA -The Humboldt Wildcats football team hosted Garner Hayfield Ventura on Friday night and used a strong start and a strong 2nd half to pull away from the Cardinals in a 41-14 victory on Health Care Workers Appreciation night. On the opening drive of the game, the Wildcats took a 7-0 lead after Senior Quarterback Caden Matson hooked up with Junior receiver WIll Orness on a 19 yard touchdown pass. Matson would find Orness again in the first quarter on an 8 yard touchdown to make it 14-0. In the late stages of the 1st frame Senior defensive back Carson Berte scooped up a Cardinals fumble and took it to the house for a 57 yard score to make it 21-0.
Gardner Hayfield Venture would come back though and capitalized on two Wildcats turnovers in the 2nd quarter to cut the Humboldt lead to 21-14 at the half.
The Wildcats came out strong in the second half and Caden Matson threw two more touchdowns, the third of the game to Orness and then to Senior Jacob Heier before adding a touchdown on the ground from Sophomore Lance Coon to make it 41-14.
Head Coach Derrick Elman said that the fast start was big but self inflicted wounds hurt the Wildcats as well.
Next up for the Wildcats is a showdown with Estherville Lincoln Central on Friday night in Humboldt.