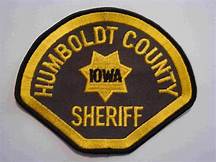 By: Matt Scher, [email protected]
Humboldt, IA – The Humboldt County Sheriff's Office arrested a Humboldt man on Friday, Aug. 19 after he turned himself in.
59-year-old Kevin Evans, of Humboldt, was arrested after he turned himself into the Humboldt Law Enforcement Center on Friday. Evans was arrested on an arrest warrant for failure to appear on the original charge of littering. He Evans was able to post the $300 cash only bond and was released with a court date.