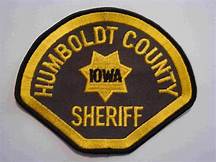 By: Matt Scher, [email protected]
Humboldt, IA – On Friday Aug. 19, the Humboldt County Sheriff's Office responded to an accident at the intersection of U.S. 169 and 200th St. with injuries.
58-year-old James Cleveland of Johnston was stopped in traffic waiting for another vehicle to turn across oncoming traffic. That is when 36-year-old Rachel Koethe of Algona collided into the back of Cleveland's Chevrolet Tahoe with her Chevrolet Traverse. Injured in the accident were 56-year-old Leslie Cleveland of Johnston and a 4-year-old passenger from Algona in Koethe's vehicle. Both were transported by ambulance to Humboldt County Memorial Hospital.
Koethe was cited for the use of an electronic communication device and the failure to use a child restraint device.