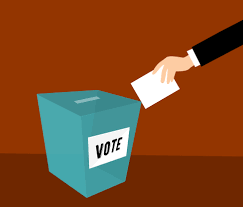 By: Matt Scher, [email protected]
Humboldt County, IA – The 2022 Midterm Election is tomorrow, Nov. 8 with six voting precincts holding voting.
In precinct one where residents are under Supervisors Sandy Loney, voting will take place at Our Saviors Lutheran Church in Humboldt. Precinct two where residents are under Supervisor Rick Pederson will vote at the Humboldt Community Center. Precinct three, where residents are under Supervisor Bruce Reimers, will vote in the Humboldt County Fairgrounds Events Center.
Precinct four, which includes the cities of Gilmore City, Bradgate, Ottosen, Avery Township, Wacousta Township, and North Weaver Township will vote at United Methodist Church in Gilmore City. Residents in Bode, Livermore, Lu Verne, Delana Township, North Rutland Township and North Vernon township will vote in precinct five at Immanuel Lutheran Church in Livermore. Voters in precinct six, which includes Dakota City, Hardy, Renwick, Thor, and the townships of North Beaver, Grove, Lake, Norway and Southeast Vernon will vote at the VFW Hall in Dakota City.
For any questions regarding voting precincts on Tuesday Nov.8, you can call the County Auditor's office at 515-332-1571.