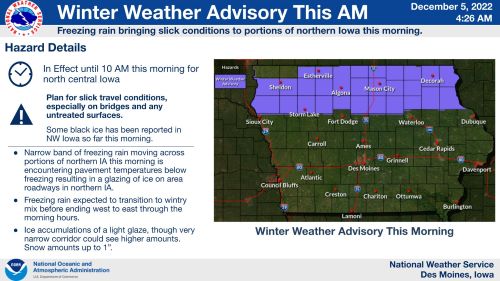 By: Matt Scher, [email protected]
Des Moines, IA – The National Weather Service in Des Moines has placed north central Iowa under a Winter Weather Advisory through 10:00 a.m. There is a narrow band of freezing rain moving across portions of northern Iowa this morning. Pavement temperatures below freezing are resulting in a glazing of ice in northern Iowa. The freezing rain is expected to transition to a wintry mix as it moves across the region in the morning hours. Ice accumulations are expected to be a light glaze, with areas possibly seeing an inch of snow. The NWS says to plan for slick travel conditions, especially on bridges and any untreated surfaces.
With the winter weather moving through, several school across our area are now delayed. Humboldt and Twin Rivers schools along with St. Mary's are delayed by two hours this morning, with no a.m. preschool. Additionally, Algona Public/Parochial & Lu Verne schools are delayed two hours with no a.m. preschool, Gilmore City-Bradgate schools are delayed two hours with no a.m. preschool, Pocahontas Area schools, West Bend-Mallard schools and Laurens Marathons schools have also both been delayed two hours this morning.