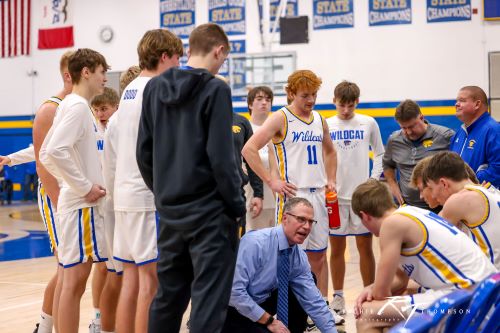 By: Matt Scher, [email protected]
Humboldt, IA – The Humboldt Wildcats boys basketball team hosted the Webster City Lynx in a North Central Conference battle at the Humboldt High School Gymnasium on Friday, falling in the final minute of play 72-71.
The Cats and Lynx entered play both at 5-0 and did not disappoint with a entertaining game of up tempo play. Humboldt took an 18-15 lead at the end of the first quarter, with Webster City storming out to a lead in the second quarter before Humboldt reclaimed the lead by 1 point at the half at 39-38.
The third quarter saw Humboldt trail 57-55 and a late surge in the fourth quarter had the Cats tie the game with a minute left at 70 all. Josh Thurm was fouled with a few seconds left with Humboldt trailing by 2, and Thurm made the first free throw, with the second one off the mark, securing the win for Webster City.
Elliot Carlson led the way for the Cats with 17 points, followed by Thurm with 16. With the loss, the Cats fall to 5-1 overall and 3-1 in conference play.
Humboldt is off this weekend and head to Hampton to face the Hampton-Dumont-CAL Bulldogs on Monday at 7:45 p.m.