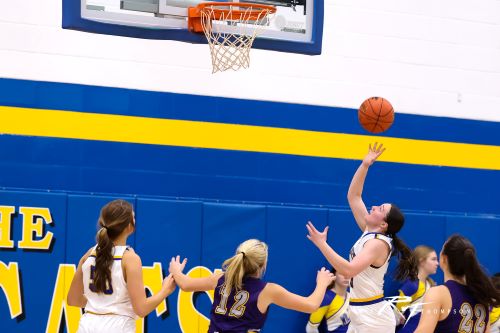 By: Matt Scher, [email protected]
Humboldt, IA – The Humboldt Wildcats girls basketball team hosted the Webster City Lynx in a North Central Conference battle at the Humboldt High School Gymnasium on Friday, defeating the Lynx 58-40.
The girls team jumped out to a 12-0 lead to begin the game before Webster City would storm back to tie the game at 12 in the second quarter. The teams would trade scores through the second quarter with Humboldt leading by 6 at halftime with score at 30-24. The Cats would open things up in the third quarter after fending off another Lynx surge before taking a 48-31 lead into the final stanza. The Cats would hold off Webster City to pull out the win at 58-40.
Leading the way for Humboldt was Morgan Mann, who crossed the 20 point threshold again with 23 points, followed by Ava Fisher, who made four three-pointers in a 12 point effort. With the win, the girls team for Humboldt improves to 5-3 overall and 4-1 in the conference.
Humboldt is off this weekend and head to Hampton to face the Hampton-Dumont-CAL Bulldogs on Monday at 6:15 p.m.