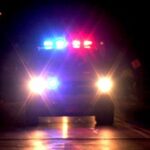 By: Matt Scher, [email protected]
Fort Dodge, IA – Fort Dodge Police are investigating a shooting that took place on Sunday.
A call was received by the Webster County Telecommunications Center at approximately 8:01 in the evening of multiple calls of shots fired in the area of N 14th St. and 1st Ave. N.
Upon arrival on scene, officers had located a vehicle that had been struck by gun fire.
The Fort Dodge Police Department encourages anyone who may have seen or heard anything around this area Sunday night to contact law enforcement. Information may also be submitted anonymously via Crime Stoppers.
The Fort Dodge Police Department was assisted by the Webster County Sheriff's Office.