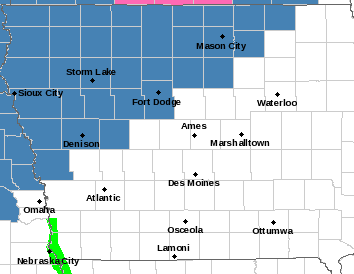 By: Sam T. Jensen — samj@977thebolt.com
Des Moines, IA — Those traveling northbound this week for Thanksgiving may want to take some precautions.
According to a briefing from the Des Moines National Weather Service, moderate to heavy snow is possible tonight into Wednesday morning. Approximately 3 to 8 inches is possible over west-central and northern Iowa.
Wind gusts may prove to make travel difficult as well. 35 to 50 mile per hour wind is possible, causing significant blowing and drifting snow. This could create blizzard-like conditions early Wednesday morning. Visibility will be below half of a mile.
Humboldt County is one of several counties in northwest Iowa that is estimated to receive the largest amount of snowfall over the course of the next day or two. The National Weather Service has issued a winter storm watch starting tonight.
More information is available at:
http://www.weather.gov/dmx/dsswinter