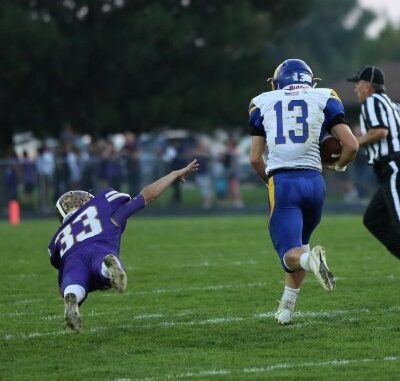 By: Sam T. Jensen — samj@977thebolt.com
Humboldt, IA — Humboldt High School star athlete Jamison Heinz will be continuing his football career at the University of Iowa.
Heinz says he's been a Hawkeye fan his entire life and is looking forward to playing at Iowa. He says they have a "great coaching staff" and is looking forward to competing "with and against the best."
This past fall, Heinz ran 1,134 yard and scored 13 touchdowns for the Wildcats. As a junior, Heinz played a variety of positions on offense – quarterback, running back, and wide receiver. On top of that, Heinz saw success on the basketball court as well, averaging 12 points per game for Humboldt and leading the team in assists and steals.
Heinz says as much as loves basketball, college football is his future
"College football makes more sense for me. I've had a few smaller schools interested along with a few division two and in-state division one schools."
Heinz says he's excited to have Brady Ross, former Humboldt Wildcat, as a teammate next year. He's also grateful for his current and future coaches and "people on the Iowa staff including Levar Woods, Tyler Barnes, and Scott Southmayd."
Featured photo courtesy of Twitter.