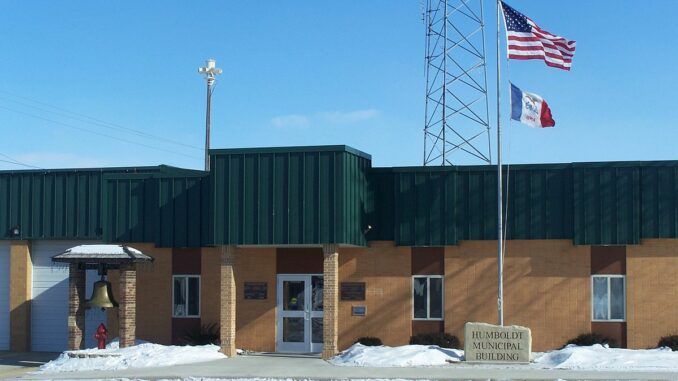 By: Donovan Mann – donovanm@977thebolt.com
Humboldt, IA – the City Council is discussing organization changes to city staff structure and police administration.
On Monday, Jan.22, the Humboldt County City Council hosted a special workshop to discuss a couple of proposed organizational structure changes for the city and the state of the Humboldt Police Department.
City Administrator Travis Goedken says the proposed structural changes reflected in the discussion were the Recreational Director Position and the future of the Humboldt Police Department.
Goedken says part of the proposed change would be to merge the Parks Department with the Recs Department. He says this merge would provide 4 direct reports position to the director. The positions are Rec Center Manager, Aquatic Center Manager, Parks/Facilities Manager, and Recreation Manager.
Goedken says the changes are only potential changes because the city works with a third party consultant to do job description analysis and wage analysis. He says the Council has given him the green light to allow the consultants to review the organization structure.
The second part of the workshop was dedicated to discussion of potential outcomes for what the police department currently looks like and discuss all options. Goedken says "we talked about three potential outcomes for what our police department looks like currently. One being the current situation where we contract out with the Sheriff for police administration, county wide law enforcement, and going with a police chief over our police department". Goedken also says there was discussion on the option of adding a sergeant or lieutenant position in the department.
Some of the concerns brought up by Goedken included communication and overall morale of the department.
Goedken says the Council wants to work over the issues within the police department by working with the Sheriff to address concerns directly. He says that the city's focus right now is addressing all issues within the police department to make sure there is efficiency. Goedken also says that officer safety is the utmost importance.
Goedken and the City Council will continue to discuss and work the potential organizational changes going forward. They will also continue to work with the Sheriff's office to assure the police department is running as efficiently as it can be going forward. No further action has been taken on these two points of discussion at this time.