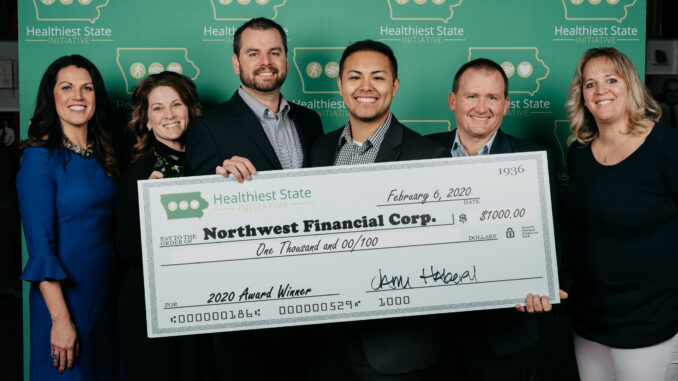 An area bank is being recognized for their outstanding working environment.
On Friday, Feb. 14, Northwest Bank announces that it was recognized as the winner of the 2020 Healthiest State Medium Workplace. This is an award presented by the Healthiest State Initiative. The award recognized the bank for their efforts to improve the physical, social and emotional well-being of its employees.
Executive Director of the Healthiest State Initiative, Jami Haberl, say they are proud to recognize Northwest Ban with this aware for their work to align its employees well-being initiatives with the overall organization values.
Northwest Financial Corp President Greg Post says they are honored to be awarded as the healthiest state workplace and excited to continue the efforts in improving the health and well-being of their employees and their families. He says the organization is filled with energetic employees who are team oriented and interested in having a positive impact within the organization and communities they serve.
Some of the accomplishments at Northwest include 10% increase in participation in physical activity benefits, including gym reimbursement program and workplace-sponsored fitness challenges, implementing a new Volunteer Time Off policy to encourage employees to volunteer in their community and investments in current employees through multiple in-house training opportunities and development.
Northwest Ban is a $1.6 billion community bank that offers a full line of business, agricultural, mortgage, consumer deposit and lending services as well as wealth management and insurance services. Northwest Bank has offices in many locations include Humboldt and Algona.