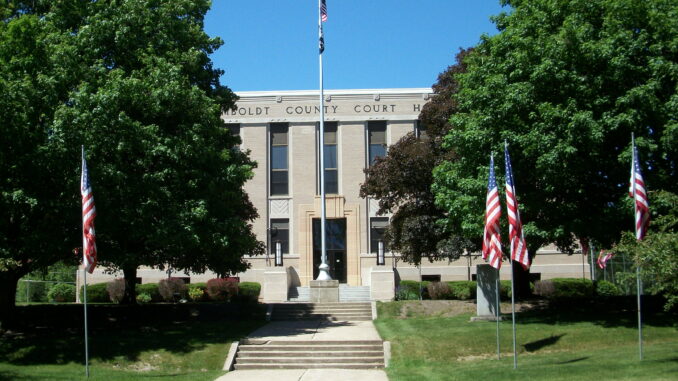 By: Donovan W. Mann – donovanm@977thebolt.com
Dakota City, IA – The County Board of Supervisors make motion to move weekly meetings to online video chatting platform.
On Monday, March 30 the Humboldt County Board of Supervisors discussed and took action to move the weekly meetings of the Board of Supervisors to teleconferencing on video chat service Zoom. This action is designed to limit the foot traffic coming through the court house.
Supervisor Bruce Reimers was the first to speak on behalf of Zoom. He discussed two meetings he had in the past week. The first was via Zoom and the second via a simple phone conference. He said with Zoom it made things run smoother because voting actions could be done via a raise of the hand versus everyone talking over each other.
Supervisor Sandy Loney also made comments on the simplicity of Zoom versus a conference phone call. Board Chair Erik Underberg says it is an advantage of the board only having five members, which would help reduce some of the issues of people talking over each other.
Reimers brought up concerns about the portion of the meeting designated for the general public to bring concerns to the board and how that would work via Zoom. County Auditor Peggy Rice says that during that time who ever has a concern can be part of the video chat via the public link and speak their concern to the board.
Supervisor Rick Pedersen spoke of concerns on if someone had to bring a report before the board that required a signature of the board chairman. Underberg says he could make arrangement to receiving and sign the paper work.
Loney spoke on the idea that county employees who are deemed essential still come to the office. She speaks that the board should consider themselves essential as well and that she plans to be at the meetings in person unless she shows symptoms. She also quotes the surgeon general on that this is social distancing, not social isolating.
The board of supervisors came to the unanimous decision that they would be hosting all of their weekly meetings via Zoom video chats starting Monday, April 6, until further notice. The board leaves it open to each members discretion on whether they choose to attend the meetings in person or via the video chat. For any member of the public who wishes to attend a meeting can find a link on the county website: humboldtcountyia.org.