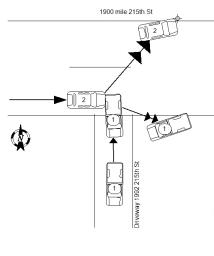 By: Donovan W. Mann – donovanm@977thebolt.com
Humboldt, IA – Possible minor injuries reported after two vehicles collide as a result of one car backing out of their drive way into the other.
Chief Deputy Corey Lampe of the Humboldt County Sheriff's Office reports that on Friday, March 20, that Ashley Robinson, 34, of Humboldt, was traveling eastbound on 215th Street while Wayne Miner, 68, of Humboldt was backing out of his driveway. Miner did not see Robinson coming and proceeded to back out, resulting his blue RAM RTR getting hit on the rear passenger side by Robinson's black Chevrolet Impala.
The incident resulted in minor damages to Miner's RTR and severe damages to Robinson's Impala. Both drivers involved reported possible minor injuries to Deputy Lampe at the time of the incident but refused medical treatment. Miner was cited for failure to yield upon entering a through highway.