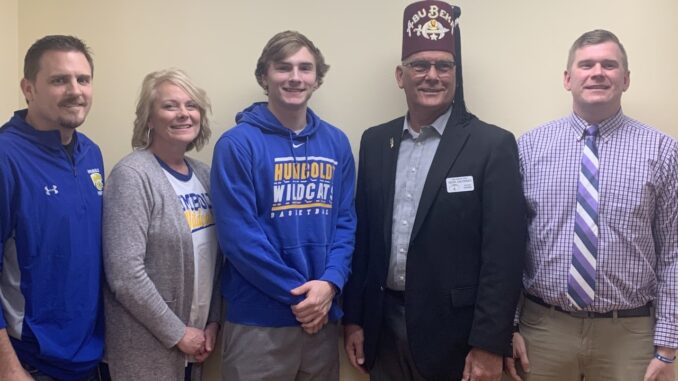 By: Donovan W. Mann – donovanm@977thebolt.com
Humboldt, IA – A Humboldt High School football player has been named to the State All-Star Game Roster.
On Tuesday, March 3, it was announced that Wildcat Football player Jamison Heinz would be participating in the 2020 Iowa Shrine Bowl Football Game. Heinz meant with representative of the game Dean Jacobsen on Wednesday, March 4 to discuss details of the game selection process and week leading up to it.
There are two rosters for the Shrine Bowl, North and South. The geographical factor that determines what players qualify for which region of the state is location based off Highway 30. Each Roster consists of 46 players that are selected by the coaching staff of the corresponding roster. In order for a player to get selected they must first be nominated by their high school coach.
Jacobsen also says that it is not just about skill on the field but also personality and character. He says that the Shrine Game coaching staff will call other area schools for recommendations on a player's behavior on the field. "It means you're not only a good football player, but a good kid" Dean tells Heinz and his parent, Jeff and Stephanie.
Jeff Heinz says "we're excited. It's an honor to be selected given all the information [Jacobsen] gave us on the selection process". Jamison seconds his father's comments "like my parents said it's an honor to be chosen. Him going through the selection process and how few players are selected, it is an honor to do that".
Since the first All-Star game in 1973 it has always been a partnership with the Shriner Hospitals for children. The total amount raised for Shriners by the All-Star game since 1973 is 2.6 million dollars. A large part of the activities throughout the week is working with the children who have received treatment from Shriners Hospitals.
Stephanie Heinz says "I'm just excited that there is an organization that has a great purpose behind it and supporting a hospital and that Jamison gets to be a part of seeing kids and being part of their lives at least a little bit that week. What an honor to be selected to do that". Jamison calls the opportunity great as well and can't wait for it.
The 2020 Iowa Shrine Bowl will take place July 18. Leading up to it will be a week of festivities meant to honor the players and Shriners Hospitals. The week will include practices and bonding activities so all players on both teams can get to know each other as fellow players, not as rivals on the field. Heinz thanks his coaches for nominating him for the roster spot and his parents for the way they raised him.