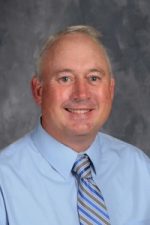 By: Donovan W. Mann – donovanm@977thebolt.com
Humboldt, IA – Humboldt and Twin Rivers Schools next superintendent is excited to collaborate with the community to shape and improve the future of the area schools.
On Monday, March 23, the Humboldt Community Schools Board of Education announced the Jim Murray would be hired as the next superintendent for the district. Murray is currently the principle at Tilford Elementary School in Vinton, Iowa and is originally from Algona.
Murray says he and his family are excited for this opportunity. "We're coming home and so we're just ecstatic" he says. He mentioned the great quality of life provide by the community. He is also excited for the good education his daughter will get at Humboldt High School.
He says one of the greatest things about Humboldt is the support he school district gets from the community. "The parents and students and staff are proud of their district" he says. He says he is amazed by the culture of the community and the positive energy he has received.
Murray says that he want to help establish a clear vision for the district on what community success looks like. His plan to achieve this goal is diving right in and getting the input of everyone in the community. He plans to have an open door to hear about both Humboldt and Twin Rivers Schools, take what is working and continue it and figure out what can be improved on to best serve the student.
Murray is a firm believer in team work and plans to have a collaborative mind set with the leaders of the district. Murray will be tasked with forming his own administrative staff in the schools and is excited for this opportunity. He wants to make sure that all the leaders are approach their position with a positive mentality. He cites community engagement as a huge part of the administrative positions.
While at Tilford Elementary the school received the National Blue Ribbon for High Achievement and he personally received Elementary Principle of the Year. While he is flattered to have received this honor he says his staff and the teamwork was a huge part of his achievement.
Jim Murray says he has been wowed by the amount of positive energy he and his family has received from the Humboldt and Twin Rivers Community. He will officially take up the role of superintendent on July 1, 2020 and is excited for what the future holds for Humboldt and Twin Rivers Schools.