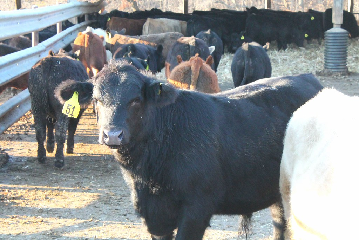 By: Donovan W. Mann – donovanm@977thebolt.com
Humboldt, IA – Cattle farmers and the beef industry provide a significant piece to Iowa's economy and nutrient rich food while looking out for their local communities.
May is beef month and a time to recognize those who are involved in the industry. The Iowa Cattlemen's Association celebrates this time and all those who provide the cattle to the market. Government Relations Director for the Cattlemen's Association, Cora Fox, talks the importance of cattle farmers with KHBT.
Fox says that their economic impact is felt statewide with the revenue they generate. She says the beef industry generates approximately four billion in cash receipts for all cattle and calves received in the state. That four billion is equal to nearly 15% of the agriculture cash receipts. She calls this money vital as it is also money that gets put back in local economies, Iowa schools and other public good.
Beef is a very nutritious source of essential nutrients that can be a firm piece of any consumer's diet. Fox says that the food is nutrient rich and that is full of iron, protein, zinc and B vitamins. Further she says that there are more than 30 cuts of beef that qualify as lean by the government. Fox calls it a great piece of anyone diet.
But for the cattle producers, it's not just about the economic and nutritional impact they have but the personal impact they can make in their communities. Fox says that some Cattlemen's Association affiliates have gone out into their local communities to give back. This includes grilling for the community and the school lunch programs offered by their local school districts. "They really are giving back to the communities that support them" Fox says.
While May is the designated month to recognize the beef and cattle industry, the impact this industry has in Iowa is felt year round.