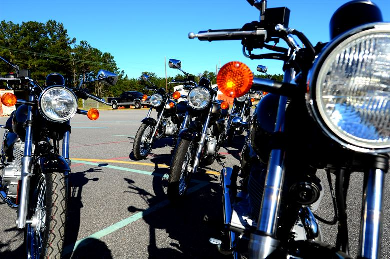 By: Donovan W. Mann – donovanm@977thebolt.com
Humboldt, IA – A motorcycle safety and education group provides education for all drivers as they aim to prevent motorcycle incidents and deaths.
May is motorcycle safety month. As the weather grows warmer more and more people have been enjoying their rights to be out on the open roads on the back of a motorcycle. When it comes to motorcycle safety it is a team effort by everyone that is out on the roads. This is why motorcycle safety advocate group A Brotherhood Aimed Towards Education (ABATE) aims to educate drivers on the importance of looking for motorcycles.
ABABTE District 10 Legislative Officer Dough Smith says that part of their efforts includes an informative course. He says that the program is called "Share the Road." It is a program that is taught as part of driver's education in the state of Iowa. The basic concept of the course is to help drivers understand "why we ride, where we ride, when we ride" according to Smith.
Smith says the Share the Road program is about saving lives through awareness. "That is something that we do because we want people to be able to see us" he says. He says they want to help people be aware and know what to look for when they share the road with motorcycle riders. "Then hopefully we save one life or several lives when we give a presentation" he concludes.
Share the Road is a program as a result of legislation sought by ABATE and is the product their work with the state level to assure a safer road for motorcycle riders.