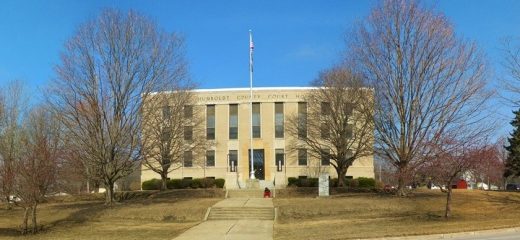 By: Donovan W. Mann – donovanm@977thebolt.com
Dakota City, IA – The supervisors move that the court house will be keeping "status quo" for a little while longer.
The Humboldt County Board of Supervisors elect to keep the courthouse operating as is for the time being. During the most recent meeting of the board they held discussions on possibly reopening the courthouse and what procedures would look like. However, due to uncertainty caused by COVID-19 the board motioned to continue with two weeks of operating with the front doors locked.
During this period all offices in the courthouse will continue to operate by appointment only. The drop box outside the building will continue to be in use for citizens to drop off necessary documents and payments. Any arriving for an appointment will have to wait outside and call the appropriate office so a staff member can let them in.
The board also decided to keep all supervisor meetings available via video or teleconference call for the next two weeks. The meetings are always open to the public and the board agreed that doing virtual meetings allows the public into the meeting without worrying about capacity limits. The board may consider keeping video conferencing as a permanent fixture as well in order to provide easier access to members who might be traveling and otherwise be unable to attend.
The board of supervisors plans to revisit the topics of reopening the courthouse and teleconference meetings on June 15 during their regularly scheduled meeting.