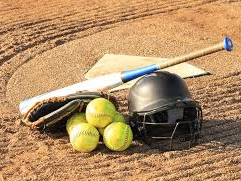 By: Donovan W. Mann – donovanm@977thebolt.com
Humboldt, IA – Humboldt High School Softball picks up a win in an instant classic with Webster City.
On Wednesday, June 24, Wildcat softball picked up a 6-5 victory over the Lynx in nine innings. Humboldt started the scoring in the bottom of the first with a two run homer from Ellie Jacobson. Webster City's five runs came from two different home runs, a two runs from Taylor McKenny and a three run homer from Jenna Miller.
Wildcats found themselves trailing for the first time this season in the sixth inning. Kendal Clark would get a solo home run in the sixth to bring it back within one. In the bottom of the seventh Carlie Thompson would get aboard on a double and eventually be batted in by Mady Lange on a sacrifice RBI fly. Lynx would force extras with a double play involving a popped up bunt and a throw to third base with the base loaded. In the ninth inning Jori Hajek got aboard with one out via a walk and reach third after a throwing error by the Webster City catcher. Lange would provide another RBI sac fly to bat in the winning run.
Key stats:
Lange batted in a total of three runs with her two sac flies and a solo home run.
Humboldt Pitcher Jacobson would allow six hits and collect 13 strikeouts while only walking two.
Lynx Catcher Kelly Stoakes went 3-4 from the plate and scored two runs.
The final stat report can be found on Varsity Bound.
The Wildcats are now 5-0 on the season and 4-0 in the North Central Conference standings. Humboldt softball's next game is on Thursday, June 25, at home against Bishop Garrigan. First pitch is scheduled for 7:30 pm following the JV game.