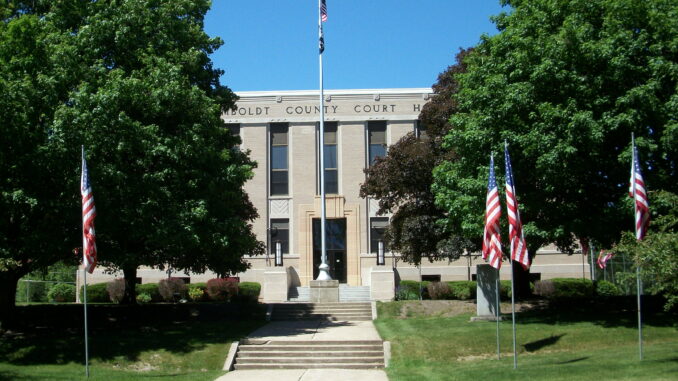 By: Donovan W. Mann – donovanm@977thebolt.com
Dakota City, IA – The board of supervisors approve McCarthy's salary as the full time EMA Coordinator in Humboldt County.
The Humboldt County Board of Supervisors is approving the salary for the full time Emergency Management Coordinator. On Monday, July 3, during the meeting of the board of supervisors the board discussed and approved to salary of Kerry McCarthy. McCarthy has been the part time interim coordinator since March.
McCarthy's salary was on a previous meeting agenda but the supervisors wanted more information on the hours the position would require. County Emergency Management Agency Board Member Dan Scholl was present and spoke to the time McCarthy puts into the position. He also complemented the communication that the coordinator has with the whole EMA board. This comment was seconded by Supervisor Erik Underberg who serves on the EMA Board as well.
Scholl also told the county supervisors that EMA board discussed the topic of full time in a recent meeting on June 24. He says that after discussing the nature of the position as well as Iowa code it was the EMA concludes the best move is to offer McCarthy the full time position. Scholl, along with County Sheriff Dean Kruger second that belief to the county supervisors.
These discussions by the supervisors were not centered on hiring McCarthy. The EMA board is the one responsible for hiring him full time and had already come to that decision. The supervisors were required to approve his salary as it is part of the EMA budget from the county.
Before taking up the interim position, there was talk by Kossuth County to hire McCarthy full time as their EMA Coordinator. Supervisor Sandy Loney brought forth a concern of if Kossuth calls in a few months asking to hire McCarthy would he leave. He says it wouldn't be possible because hires the Kossuth EMA Board made recently. The EMA Coordinator also says that he is happy being with Humboldt County.
The board of supervisors decided to approve the full time salary of $49,188. The decision was unanimous.