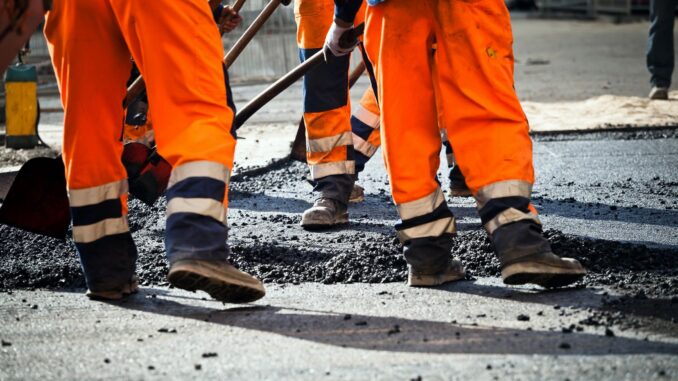 By: Donovan W. Mann – donovanm@977thebolt.com
Dakota City, IA – Secondary roads repairs a large hole in the blacktop near Bode Saturday morning.
The Humboldt County Engineering office is reporting fixing a large hole during the 4th of July. During the Humboldt County Board of Supervisors meeting, County Engineer Ben Loots reported the patching of a large hole in one of the county's asphalt roads. The area needing repair was the blacktop near Bode
Loots says he received the call Friday evening about the hole. The hole was first reported to him by his Weekend Foreman, Kevin Buss.  The hole was described to be about the size of a basketball. This hole was similar to a hole that was reported last weekend.
Because of the time of day, the foreman requested to close the road so the repair could be tackled the next day. Loots approved the road closure along with the LEC. Loots and a crew met at the Secondary Roads Shop in Bode at 8 am on July 4 to assess and repair the road.
Loots says the likely cause of the hole was the tile underneath the road being damaged and allowing water damage underneath. He says they had to dig up the area to fix the eight inch tile that was busted. After that they had to "reset the 42 inch cross pipe and tied and fabricked all of the joints." They then back filled the area with rocks and Loots says Blacktop Services will be in the area doing patch work and he'll have them patch the hole while they are there.
During the discussions on the work done by secondary roads the supervisors expressed their appreciation for the engineers. They also say they appreciate anyone who calls a needed repair to the counties attention.