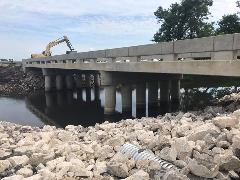 By: Donovan W. Mann – donovanm@977thebolt.com
Dakota City, IA – After a couple months of construction the bridge on Virginia Avenue is now open to traffic again.
The bridge on Virginia Avenue is being reopened. On Monday, July 27, during the meeting of the Humboldt County Board of Supervisors, County Engineer Ben Loots gave a progress update on the project. He says that project is completed and ready to be reopened later that day.
Loots reports to the supervisors that hired contractor, Merryman Bridge, finished their portion on July 23. On the 27, before the supervisors meeting, the engineer says that the contractor called his office to report those responsible for installing the guard rails would be out and the bridge would be ready to reopen later that afternoon. The bridge has been reopened as scheduled.
As previously reported by KHBT, the project was a replacement of an early 1900s pony truss bridge. The new bridge is a concrete slab that is 24 feet wide and 120 feet long.
Featured photo courtesy of Humboldt County Secondary Roads