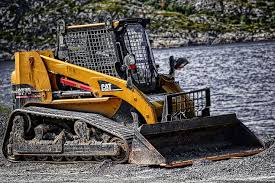 By: Donovan W. Mann – donovanm@977thebolt.com
Humboldt, IA – The City of Humboldt is hoping to cut down long term costs on street repairs by giving the street department better tools to do patches and repairs.
The City of Humboldt is better equipping the streets department to be able to provide smoother and higher quality repairs. During the most recent city council meeting for the City of Humboldt, council approved the purchase of a Caterpillar Model 262D3 Skid Steer Loader. City Administrator Travis Goedken talks with KHBT about the purchase by the city.
He says that council approved the purchase with the expectation attachments will be purchased along with it. "In line with council buying that, we would also buy attachments" Goedken says. Some attachments include an attachment for street milling (plainer). This tool can be used to help mill down potholes and provide a more clean edge when doing street repairs.
Goedken says the city already owns a John Deere skid loader they plan to purchase a vibrating drum roller attachment for. The city also has a deal to buy hot mix from Blacktop Services and patches in the road will be a higher quality when it's all put together. The city administrator explains that the street department could take the new skid loader to plain out pot holes or significant cracks. The would follow it by using the hot mix to fill and then the Deere with the vibrating drum roller would smooth out the surface. "End up with a much higher quality patch work than we have had in the past."
The city administrator says the city has been purchasing new equipment for the streets department to improve the quality of patch work and to cut down on the long term costs. Goedken says that last year a hot trailer was added so the city could haul hot mix. The year before that the purchased the aforementioned John Deere skid loader to be shared between the parks and street department. "By giving the guys more tools to do the job more effectively, we can then end up saving some money on some long term costs," Goedken continues. He does say the city will still have to contract out large scale projects.
Goedken does say that street maintenance has been an area of emphasis for the council for a few years now. The council approved the purchase of skid loader during their last council meeting on Monday, July 20.