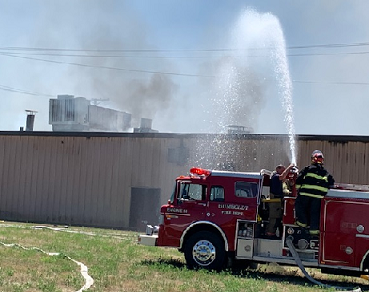 By: Donovan W. Mann – donovanm@977thebolt.com
Humboldt, IA – No injuries reported after a large fire breaks out at Yacht Club Trailers in Humboldt.
Humboldt and surrounding area Fire and Rescue respond to a fire at a local business. On Monday, July 27, Humboldt Fire and Rescue responded to a fire Yacht Club Trailers. Humboldt Fire Chief Jim Gronbach reports the details.
The fire chief says that when Humboldt Fire and Rescue arrived smoke was already coming out of the roof. He says those who were inside and witnessed the blaze start reported that the paint booth was on fire. As the crew went to work there was a lot of fire, smoke and heat inside they were attempting to vent so they could better address the flames. He says that they also made more ventilation holes to reduce the smoke and heat inside.
Fire department from Humboldt, Fort Dodge, Livermore, Badger, Renwick, Gilmore City and Bode were spotted on the scene to help tame the fire. Chief Gronbach says People Services reported that the fire and rescue teams used about 800,000 gallons of water to battle the fire.
No injuries were reported as a result of the fire.