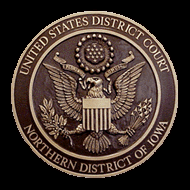 By: Donovan W. Mann – donovanm@977thebolt.com
Sioux City, IA – Four federal prison sentences are given in a case that involves a stolen shotgun from a Humboldt County residence.
Four are sentenced to federal prison as part of a case involving federal firearms conspiracy. Announced via a press release from the U.S Attorney's Office of Northern District Iowa, Charles Westfall, Jr, 32 , of Clarion, IA Donald Rundall III, 42, of Stratford, IA, Jamie Stupka, 29, of Ames, IA and Leah Hanson, 32 of Cedar Rapids, IA have received prison terms ranging from over 8 years to time served  for their roles in a conspiracy to steal, possess and traffic firearms.
The case dates back to June of 2017 when the four broke into a Humboldt County home and stole valuables including a shotgun from the residency. The items stolen were stored in multiple locations. Westfall and Stupka used a stolen TV and the shotgun to purchase methamphetamine. The shotgun was later resold to a felon who could not possess the firearm legally.
Rundall received a 96 months' imprisonment on May 1, 2020 for one count of conspiracy to possess a stolen firearm, one count of possession of a stolen firearm and one count of possession of a firearm by a prohibited person. Hanson was sentenced to time served on July 8 on the same charges as Rundall. Westfall was sentenced on June 26 to 104 months and 29 days imprisonment for one count of possession of a stolen firearm. Stupka was sentenced on June 19 to time served on June 19 on one count of conspiracy to possess a stolen firearm.
All four of the defendants will have to serve a three year term of supervised release after the prison term. Westfall and Rundall are being held in the U.S. marshal's custody until they can be transported to a federal prison.
Featured photo courtesy of the United States District Court, Northern District of Iowa.