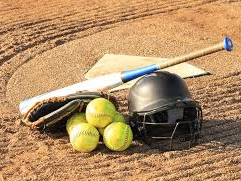 By: Donovan W. Mann – donovanm@977thebolt.com
Humboldt, IA – Humboldt High School Softball tops the Iowa Falls-Alden Cadets to keep it perfect in the North Central Conference.
On Wednesday, July 1, the Wildcats hosted IFA and collected another victory, final score 7-0. Humboldt continued their dominate display as a team, starting the game by scoring two runs in the first inning off of just one hit and the help of a couple errors. After being scoreless in the second the wildcats would score three in the third and one in both the fourth and fifth innings. While holding the Cadets scoreless, Humboldt Pitcher Ellie Jacobson faced a total of 22 batters, giving up just one hit and striking out 14.
Key stats:
Humboldt's Catcher Mady Lange went 2-3 at the plate with a triple and an RBI.
Humboldt's First Basemen Kendal Clark goes 2-3 from the plate a double and an RBI.
Humboldt would steal six bases as a team, led by Second Basemen Alexis Hansen with two.
The final stat report can be found on Varsity Bound.
Humboldt Softball is now 12-1 on the season and 6-0 in the North Central Conference. The Wildcats next game is Thursday, July 2, at home versus Algona. Algona is 6-0 in the NCC as well and with the shortened season and agreement between all NCC schools to only count seven games towards the conference standing the winner of this game will be crowned the conference champion. First pitch is scheduled for 7:30 pm following the JV game.