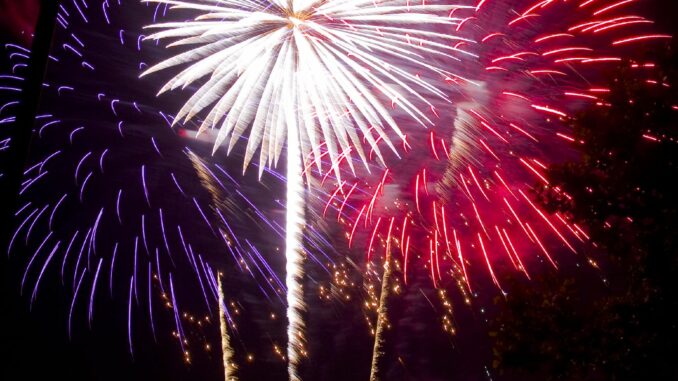 By: Donovan W. Mann – donovanm@977thebolt.com
Humboldt, IA – A look at some of the local code of ordinances in regards to recreational Independence Day fireworks.
Independence Day is rapidly approaching. On Saturday, July 4, Humboldt and the surrounding communities will be celebrating the birth of the United State. For some this means launch fireworks to decorate the night sky.
Humboldt County Sheriff Dean Kruger reminds everyone that while fireworks are legal in the state of Iowa, some city's still ban their use. He reminds everyone that checking the city ordinance is important to help avoid fines for the illegal use of fireworks. If someone is unsure they can contact local officials to get more information on their local fireworks ordinance.
Some cities in the area have restricted days and times in which citizens can launch the fireworks. The City of Humboldt's Code of Ordinance in regards to Independence Day fireworks states that "no person shall discharge a consumer fireworks device outside of the following dates and hours." Those days are July 3 from 10 am to 10 pm and the fourth from 10 am to 11 pm. Fort Dodge follows a similar code of July 1 to 3 from 5 pm to 10 pm and the fourth until 11 pm.
Some cities in the area follow the state code of recreational firework usage. Iowa code states that fireworks may be launched on June 1 to July 8 from 9 am to 10 pm. Exceptions include July 4 and the proceeding and following Sundays in which the time is 9 am to 11 pm. Both Pocahontas and Livermore follow the state code of ordinances when it comes to fireworks.
There are also some cities in the area that do not allow fireworks without a permit being granted by their council. In these cities fireworks are prohibited and using them could result in heavy fines from local law enforcement. Area communities have such ordinances include Dakota City Eagle Grove, Gilmore City and Algona.
Fireworks and the 4th of July continue to become a growing tradition in Iowa. Questions on local fireworks code should be directed to your local city hall.