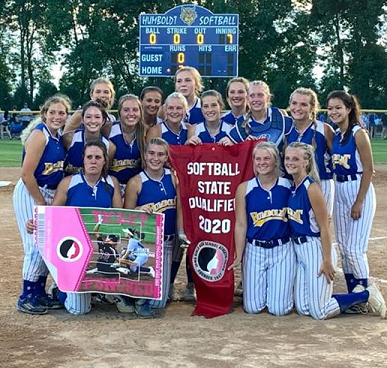 By: Donovan W. Mann – donovanm@977thebolt.com
Humboldt, IA – Humboldt High School Softball punches their ticket to the state tournament with a win over MOC-Floyd Valley.
On Monday, July 20, the Wildcats played host to the MOC-Floyd Valley Lady Dutch in the Class 3A Region 2 Championship game. It was a victory for Humboldt, who picked up the home win 3-0. After a scoreless first inning the Wildcats found the first run off the battle of First Baseman Kendal Clark, a lead off homer to right center field. Two more runs crossed the plate for Humboldt in the third inning to complete the scoring.
As a team, Humboldt went 4-24 from the plate with all three of their runs being batted in. The Wildcats did not draw a walk but reached three times on MOC-Floyd Valley errors.
Key individual stats:
Humboldt Pitcher Ellie Jacobson pitched all seven innings giving up just one hit in 23 batters faced, struck out 10.
Humboldt Shortstop Jori Hajek was 0-2 with a sac bunt, RBI and scored one run while reaching on an error.
A final stat report can be found on Varsity Bound.
Humboldt softball is now 20-2 on the season. With their win the region championship the Wildcats have advanced to the Class 3A state tournament set to take place July 27-31 at the Harlan Rogers Sports Complex in Fort Dodge, IA.
Humboldt is the four seed and will play Mount Vernon in the opening round at 7:30 pm on Monday, July 27.