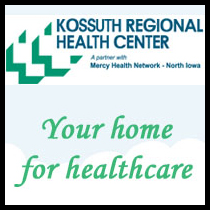 By: Donovan W. Mann – donovanm@977thebolt.com
Algona, IA – A Test Iowa Clinic is coming to Kossuth County and Algona to provide better access to COVID-19 testing.
Kossuth County is receiving a Test Iowa clinic site to provide better testing access for local surrounding communities. Announced via a press release for Kossuth Regional Health Center Public Relations Managers Joanne Bode, the site opens Wednesday July 8. The location for the testing cite is in Algona at the former Ernie Williams Harley Davidson building.
The new Kossuth County's Test Iowa site will be operating by the following hours for the next week:
Wednesday July 8 from 8 am to 4:30 pm.
Thursday July 9 from 1 to 4 pm
Friday, July 10 from 8:30 to 10:30 am
Monday, July 13 from 1 to 3 pm.
More testing days and times will be announced at a later date.
Individuals who wish to get tested at any test Iowa site must first complete the Test Iowa assessment online at testiowa.com. Those eligible will receive a unique identification code that will need to be presented at the testing appointment. To make an appointment at the Algona Testing Site, individual should call Kossuth County Public Health at 515-295-4430 after completing the assessment.
Test Iowa sites are a partnership between the state of Iowa and the local health care providers. More information about Test Iowa including locations and hours of operations for all cites and clinics can be found on testiowa.com.