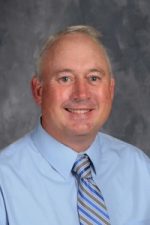 By: Donovan W. Mann – donovanm@977thebolt.com
Humboldt, IA – Humboldt and Twin Rivers students are returning to the classroom for in person learning and the district leadership is excited for what the school year holds.
Today is that students at Humboldt and Twin Rivers school begin the new school year. This will include the majority of the districts going for in person learning. Superintendent of Schools Jim Murray is ready to assure the parents and students that the schools are going to make the most of this opportunity.
Murray says that this is a unique opportunity and that he and administration are excited for students to return. "We're making history," he says when noting that kids will be receiving this education in a pandemic. The superintendent attended several of the conferences the school had been doing to ease kids back into school. He says he was "so please and impressed" with what he saw. "You could feel a positive energy with many folks who are just glad to be back in school."
The superintendent says that he hopes everyone has a new found appreciation for is offered inside the halls of the schools. Murray says that everyone "lost a lot" when school ended abruptly in March. This was in terms of both education but also the social aspect for the students. "I just think we should all have this new appreciation for the wonderful opportunities that we have." Murray includes the public education, jobs and great schools in the districts.
Murray says that the staff and teachers have been prepared to help ease the transition back to school for students, starting with the psychological aspects. "The first thing we're going to do is take care of the social and emotional well being of the students." The superintendent says that some of the Aug. workshop days were dedicated to professional development so they can help make the transition "as smoothly as possible." For the gap in learning the teachers will be using assessment data to adjust their curriculum to help bridge what was missed last year and what's new this year.
Superintendent Jim Murray and the leadership for Humboldt and Twin Rivers Schools want to assure all their families their students will be given the best opportunity to succeed as they return to the classroom for the new school year.