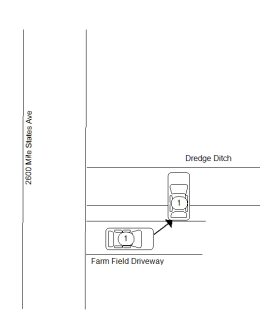 By: Donovan W. Mann – donovanm@977thebolt.com
Thor, IA – No injuries reported after a car if found left in a ditch Monday morning.
Chief Deputy Corey Lampe of the Humboldt County Sheriff's Office reports on the single car incident. His report states that on Monday, Aug. 3, the office received a report about a car found in a ditch along State Avenue. Upon following up with the owner Ryan Hovland, 20, of Thor he told the chief deputy that he had parked his silver Chevrolet Cruze earlier that morning along a field drive and fell asleep. While sleeping, he reports that his vehicle somehow moved forward, turned left into the ditch and struck a metal culvert. Hovland advised that he left the car and walked back to a residence in Thor.
The incident resulted in only minor damages to the front end of the Cruze. No injuries were reported by Chief Deputy Lampe as a result of the incident.