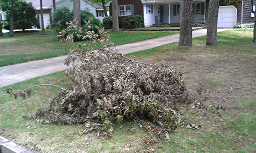 By: Donovan W. Mann – donovanm@977thebolt.com
Humboldt, IA – The City of Humboldt is providing a few different options for yard waste disposal and clean up.
During the most recent meeting of the Humboldt City Council City Clerk Gloria Christensen provided and update on the fall brush pickup and open burn days. There will be a total of three yard waste burn days and a week of brush pick up.
Brush pickup all across the city will the week of Monday, Oct. 12. Brush to be picked up must be placed on the curb by 6 am. Pickup is limited to branches seven feet in length and six inches in diameter. They must also be put in tight and easy to handle piles away from anything that might hinder the pickup.
The three open burn days are on Saturday, Oct. 17, Nov. 7 and Nov. 21. Open burning of yard waste is allowed from 8 am to 6 pm on those designated days. All fires must be constantly attended with a hose nearby. Burning will not be allowed on city right-of-ways including the streets. If weather is not suitable for open burning on these days there will be no makeup day per city code.
Those with questions about yard waste pickup days or open burn days in the city of Humboldt can contact city hall at (515)332-3435.