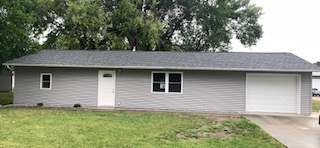 By: Donovan W. Mann – donovanm@977thebolt.com
Dakota City, IA – Dakota City is selling a city owned house to a low to moderate income family following utilization of TIF and renovations of the property.
During the meeting of the City Council for Dakota City they began the process of selling the city owned house at 27 Sixth Street North. City Administrator Angelique Berry says that the home is a two bed one bath ranch style home with a car and a half garage. She talks additional details on the city's purchase and work done with the house.
Berry says that the place was first purchased by utilizing the low to moderate income program the city goes through. She says that the home was one that had be reclaimed by the bank. She says the city had an "LMI set aside utilizing [tax increment financing (TIF)] through Dakota Heights." The requirement in Humboldt County is 38.8% for a city to put into low to moderate income housing. While the city has done housing rehabilitation with the current residents this house allowed the city to use a bigger portion to satisfy the LMI requirement.
After purchasing the city put a lot of work into the houses renovations, all of which was done by local businesses. The city administrator says that Don Stoll is the contractor. The windows, floors and the doors are all brand new. She also says the bathroom was "completely gutted." All the appliances are new and came from Seiler Appliance. The flooring came from Hjemeland Flooring. Rasmussen did landscaping as well. Berry says that the city was very keen on trying to utilize local businesses to help provide to the local economy during this project.
Berry says that the city does plan to sell the home to a LMI qualified individual or family. She says that an example of a low to moderate income qualified family of two would be one that makes under $46,400. The city administrator says that once they receive and offer they will work with the professional engineer to see if the offering party meets the LMI threshold.
The city's asking price will be $115,000. For those wishing to acquire more information about 27 Sixth St. N can contact Dakota City, City Hall at (515)332-3083.
Additional photos of 27 Sixth Street North: