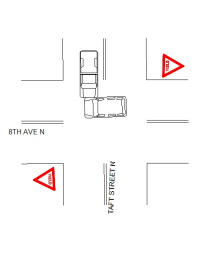 By: Donovan W. Mann – donovanm@977thebolt.com
Humboldt, IA – No injuries reported after a two car collision occurs at the intersection of Eighth Avenue North and Taft Street North.
Officer David Jones of the Humboldt Police Department reports the two car incident. His report states that on Tuesday, Sept. 8, Crystal Downs, 37, of Humboldt was southbound on Taft St. N when her gray Dodge pickup truck was struck on the left front by Myles VanPatten's red Chevrolet Equinox. According to the report, VanPatten, 80, of Humboldt told officer Jones that as he approached the intersection heading west he did not see another vehicle coming at the yield sign and proceeded forward.
The incident resulted in disabling damages to Downs's vehicle and functional damage to VanPatten's Equinox. No injuries were reported by Officer Jones at the time of the incident.