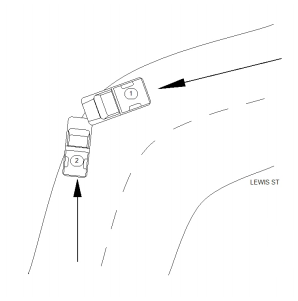 By: Donovan W. Mann – donovanm@977thebolt.com
Humboldt, IA – No injuries reported after two vehicles collide head on in Humboldt as wet roads play a role in a Wednesday incident.
Officer Tom Nielson of the Humboldt Police Department reports on the two car incident. His report states that on Wednesday, Sept. 9, Ricky Cofer, 38, of Humboldt was traveling north on Lewis Street entering a left hand curve along the road. At the same time Cole Anderson, 19, of Humboldt was southbound approaching that same curve. Cofer told Officer Nielsen that he was in the wrong lane and that both vehicles attempted to avoid the collision but went the same direction and were unable to avoid the wreck partially due to wet surface conditions. As a result Cofer's silver Chevrolet Silverado struck head on with Anderson's blue Ford Ranger.
The incident resulted in severe damages to both vehicles that had to be towed away from the scene. No injuries were reported by Officer Nielson as a result of the incident.