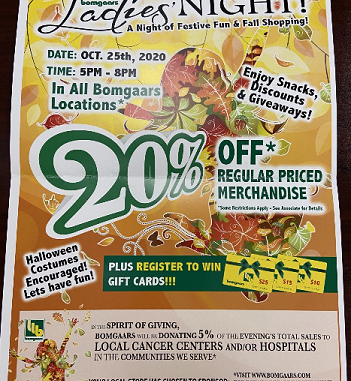 By: Donovan W. Mann – donovanm@977thebolt.com
Humboldt, IA – Bomgaars in Humboldt will be hosting a Ladies Night to help support the local hospital.
Announced via a release the night of festive fun and fall shopping at the local Bomgaars is scheduled to occur Sunday, Oct. 25. This year a recipient of the funds that are raised will go to the Humboldt County Memorial Hospital Foundation.
The donation that HCMH will receive is based on the total sales of Ladies Night in the Local Bomgaars store. The store endeavors to make this event special for the ladies with a 20% discount off regular priced merchandise. There will also be giveaways and refreshments and they encourage Halloween costumes at the event.
For the fourth consecutive year the HCMH Foundation has been selected and is honored to receive this donation. Every year fiver percent of the total sales is restricted to the HCMH Radiology Department to purchase needed equipment and support patients fighting breast cancer.
Humboldt Bomgaars Ladies Night going on Sunday, Oct. 25 from 5 pm to 8 pm.
Featured photo courtesy of HCMH Foundation Director Mardi Ratzlaff.