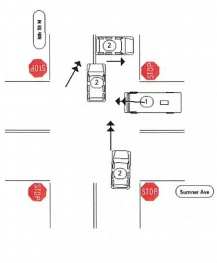 By: Donovan W. Mann – donovanm@977thebolt.com
Humboldt, IA – No injuries reported after an SUV and school bus collide at the intersection of 8th Street and Sumner Avenue Monday morning.
Officers Susan Rutz of the Humboldt Police Department reports on the incident. Her report states that on Monday, Oct. 19, Kathy Christianson was stopped at the stop sign in her white GMC Terrain looking to go north at the same time as Alan Blanchard, the bus driver, was stopped and looking to go west. According to the report Christianson proceeded forward and shortly after Blanchard did as well. Christianson attempted to speed up to avoid the collision but was struck on her right rear tires. Blanchard told Officers Rutz he didn't see oncoming traffic because his mirrors created a blind spot in which he did not see the SUV.
The incident resulted in minor damages to both vehicles that were both driven away from the scene. No injuries were reported by Officer Rutz at the time of the incident.