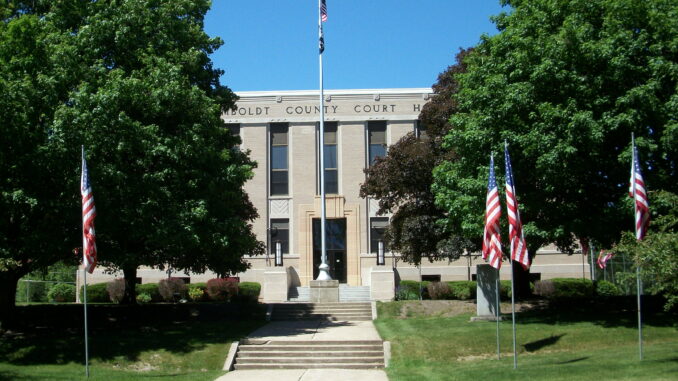 By: Donovan W. Mann – donovanm@977thebolt.com
Dakota City, IA – Humboldt County is locking in their rates as they bond out some of their substantial debt and project and equipment purchases.
On Monday, Sept. 28, the Humboldt County Board of Supervisors met with D.A. Davidson's Michael Maloney to discuss a resolution and bond purchase agreement. By approving the resolution the supervisors officially lock in the bond price and authorize the redemption of the county's debt.
In terms of the price the supervisors locked down it was originally projected that the county would be saving about $78,000 in present value savings. The final results for savings came in at about $84,000. Maloney tells the supervisors that their true interest cost will come in at 1.27 percent.
As previously reported by KHBT the amount the county will be looking to bond for is at a not-to-exceed cap of $2.78 million dollar. The debt the county is looking to include in the bonds include a couple of smaller bank loans as well as the lease with Motorola for the new Law Enforcement Center equipment and software. The county will also be using these bond funds to assist the County Conservation Board in making improvements to the Reasoner Dam, providing new radios and pagers to the fire departments across the county and helping get some updated car and body cameras for the local law enforcement.
Supervisor Bruce Reimers, on behalf of the fire departments, asked Maloney about when the funds would become available. Maloney says that all the money would be sent out on Oct. 29. At that time the bonding company would send money to the bank to pay off the couple of loans, Motorola to pay off the lease and the remaining balance went be given to the county to be able to cover the costs for equipment and project.
Following the discussion the Humboldt County Board of Supervisors approved the bond purchase agreement resolution.