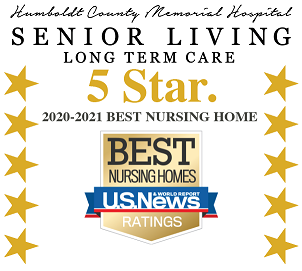 By: Donovan W. Mann – donovanm@977thebolt.com
Humboldt, IA – The local long term care facility is being recognized for providing outstanding service to their residents.
Announced via a release Humboldt County Memorial Hospital Long Term Care has received another overall rating of five out of five and a long term care rating of High Performing from the U.S. News and World Report bets Nursing Home. The news and responses were shared by Director of Community Development Mardi Ratzlaff.
She writes that HMCH "would like to give a deserving thanks to the staff and families for their efforts and current success in overcoming the pandemic in Humboldt County. Management and staff have done and exceptional job in implementing policies and procedures early to combat the disease and protect their residents."
U.S. News and World Report published its 11th annual 2020-2021 Best Nursing Home rankings on Oct. 27. This year's rankings include COVID-19 data and other safety measurements, including infection control violations and vaccination rates on a new patient safety summary feature on nursing home profile pages.
This ranking uses public available federal data as of July from the CMS Nursing Home Compare website to evaluate more than 15,000 nursing homes. U.S. News recognized 3,277 facilities as its "Best Nursing Homes" out of the more than 15,000 evaluated.
HMCH Long Term Care Unit is a 28 bed nursing facility that is attached to the hospital. They promote their resident's emotional health as well as their physical well-being. They place a high standard on preserving resident's dignity and self-respect, while providing high quality of care to their residents.
More information about the long term care facility is available at www.humboldthospital.org/senior-living/long-term-care.
"This has not been an easy eight months for the staff or residents, however our teamwork and perseverance have kept everyone safe and healthy" Heather MacLeod, RN, Director of Nursing
Statements from HCMH Long Term Care staff members provided by Ratzlaff:
"I work at HCMH because the culture and atmosphere here is amazing. Everyone is willing to help everyone else. People here are very friendly, kind and caring as well. It truly is a great place to work with great staff to work with and be around." Kallie Nilles, 5 Month CNA at Long Term Care
"I chose to work at HCMH LTC because of how rewarding it is. Working with the elderly is very rewarding because you are helping someone's family member and you build bonds with every resident like they're your own family. I love my coworkers because we are always a team and work together. HCMH is special because it is more like a family. Unlike my previous jobs, I have gained friendships and close bonds with almost everyone I work with, which makes work fun. Also, even if they are not in your unit, everyone is always so kind and will always say "hi" in the hallways." Erica Birkey, 10 Month CNA at Long Term Care
"I enjoy getting to know the residents and how they like things done. I love my coworkers and residents because without them, I wouldn't be here" Dani Glissman, 4 Year RN at Long Term Care