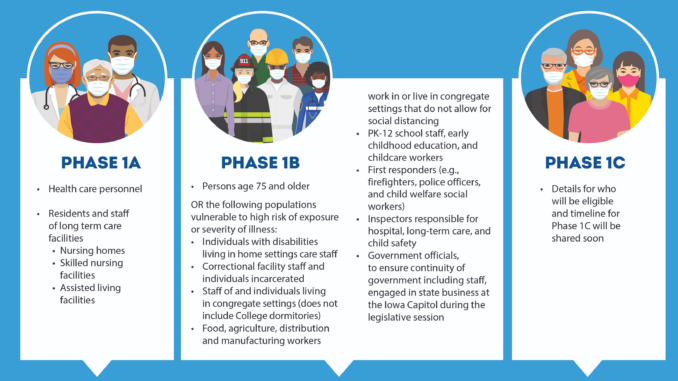 By: Donovan W. Mann – donovanm@977thebolt.com
Des Moines, IA – The Iowa Department of Public Health is planning to start COVID-19 vaccination distribution Phase 1B.
On Friday, Jan. 15, the IDPH reports they spoke with the Center of Disease Control and Prevention (CDC) regarding expected increases in vaccine allocation. They continue to move forward with the targeted plan to ensure a swift and equitable process.
The IDPH has been going through Phase 1A and vaccinating the recommended populations included in that phase. They now prepare to activate vaccine distribution Phase 1B.
This approach focuses on Iowans who are most vulnerable to exposure to COVID-19 or high-risk for illness as the result of COVID-19 infection. Persons age 75 and older are included in this population. Vulnerable populations such as individuals with disabilities living in home settings care staff.
Some essential works are also included in Phase 1B. This includes first responders and educators and staff of PK-12 and early childhood. Correctional facility staff and individuals incarcerated are also included in Phase 1B.
As the state moves forward into the next phase they plan on more setting and location for vaccination being available. There are approximately 1,700 enrolled vaccine providers in the state. County health departments may partner with these provides to ensure their resident have access to the vaccine when it become available.
The IDPH says they are planning to begin the next phase of COVID-19 vaccine distribution no later than February 1st. They continue to be in close communication with their federal partners and will provide updates as more is learned.