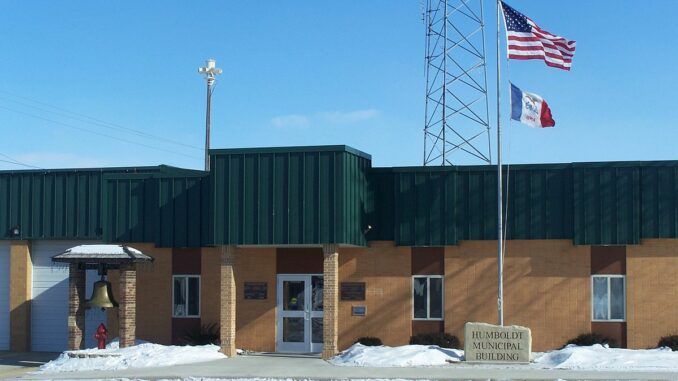 By: Donovan W. Mann – donovanm@977thebolt.com
Humboldt, IA – The City of Humboldt is beginning the process to sell a parcel of city owned land.
During the most recent meeting of the city council they held a public hearing to discuss the sale of 17 acres owned by the city. As previously reported this parcel is located south of 14th Avenue South and east of 10th Street Southwest along the Des Moines River.
City Administrator Travis Goedken says that the city does have a couple of utility stations on this property. The purchaser of the land would need to allow the city to use the access road to get to these stations.
Council Member Joel Goodell asked if there was any public use they could do with this land. He says the County Conservation Board has told him their long plan goal is to connect Sheldon Park and Gotch Park via bike trail.
Council Member John Sleiter does not believe that selling this land would make that more difficult. Goedken says it being in the flood plain would limit other uses as well.
The city administrator says that he's been approached by a couple of individuals who seem serious about purchasing the land. The plan is to get the land appraised and then the city will solicit for seal bids. Once these bids are opened the city would contact the top three bidders to hold a separate, private auction.
The starting price for the auction will either be the appraised price or the highest sealed bid received. The sale cannot be for less than the appraised value of the land. This price hasn't been established yet because city administration needed the approval of council to get the land appraised.
The city administrator says this is certainly not a conventional means of going about this process. However, the city attorney has been involved and providing input to assure the city is within legal boundaries.
Goedken says that they are going through the public hearing to assure they are good stewards to the people of Humboldt. No one came to speak during the hearing and no objections were filed through the city clerk.
After the public hearing council approved a resolution proposing the conveyance by sale of a parcel of land in the city of Humboldt. From here city administration will handle the rest of the sales process.