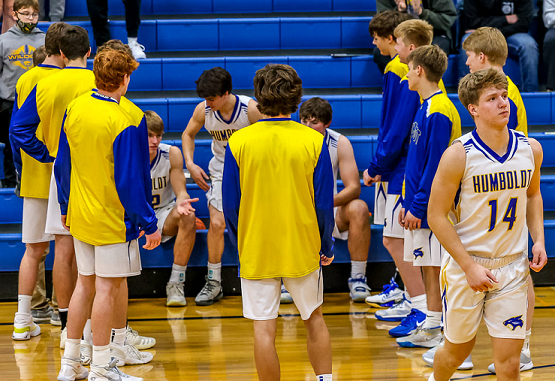 By: Donovan W. Mann – donovanm@977thebolt.com
Algona, IA – Humboldt High School boys' basketball uses buzzer beating shot to advance to the substate finals.
On Thursday, February 25, the Humboldt Wildcats traveled to Algona to face the Bulldogs. It was a 71-69 win for Humboldt.
The first quarter set a trend of back and forth competition for the game. While Humboldt stretched out a 18-12 lead after the first period the quarter was tightly contested between the two squad.
Algona responded in the second by starting the quarter off on a 10-0 run. Humboldt took a time out and responded with a 9-0 run of their own. The Wildcats were able to hold the slight 31-29 halftime lead after Algona led the quarter scoring mark at 17-13.
The Bulldogs never stopped pressing as they began the third quarter. They got eleven points from guard Noah Nelson. Algona took the lead after the third quarter 55-50.
Humboldt kept up the fight as the lead changed hands multiple times in the fourth quarter. With about 90 seconds left in regulation the game got tied at 69 apiece.
Algona had the ball and attempted to dribble out the clock for the final shot but turned it over with 10 seconds to go. Humboldt called timeout to draw up the final play, a 16 foot jumper from the high post by guard Caden Matson to win it 71-69 for Humboldt.
Humboldt shot 49.1 percent from the field as a team including 34.8 percent from three point range. They had 26 rebounds as a team with nine assists with 12 turnovers. They recorded seven steals.
Guard Will Orness led the Wildcats with 19 points on 7-15 shooting (5-10 from behind the arch). Forward Sam Fischer had a double-double with 15 points and 10 rebounds.
Algona shot 50 percent from the field but just 3-12 from three point range. They pulled in 26 boards, had eleven assists to 12 turnovers. They recorded six steals.
The Bulldogs were led by Nelson who had put up 38 points on 13-19 shooting (2-6 three pointers) and he was a perfect 10-10 from the free throw line.
A final stat report from Humboldt High School boys' basketball versus Algona in the Class 3A Substate 2 Semi-Final can be found on Varsity Bound.
With the win Humboldt is now 15-7 on the season. Caden Matson was named the Player of the Game by KHBT as part of the broadcast coverage.
Humboldt's opponent in the Substate Finals will be another North Central Conference rival, Clear Lake. The game will be on Monday, March 1. Tip-off is scheduled for 7 pm.
Featured photo courtesy of Rick Thompson.